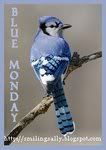 A separate post today for Blue Monday, mainly because I love that little bird in the logo. It is so sweet.
This shot was taken in my garden a few months ago when the bluebells were in flower. They grow rampant in my garden, but i don't mind because they are such a glorious colour.
Enjoy my bluebells. For more Monday Blues click the link above.
Liz Needle