Sepia Saturday had me stumped this week until my eye fell on the word Adelaide as in the Adelaide Polka. Dancing, polkas, music - nothing in my collection BUT, Adelaide I know well . Adelaide as in the capital city of South Australia, where I was born and bred.
So I went searching through the archives for some photos of old Adelaide and came upon a great collection that had me fascinated. Probably this post won't have much interest for anyone except South Australians, but I had a great time looking through the shots.
The city of Adelaide was named after
Adelaide of Saxe-Meiningen
, who married Prince William later to become King William IV of England. Adelaide was queen consort when the city of Adelaide was founded in 1836. I could find no photographs of Adelaide, but a number of portraits - all very flattering I suspect. Though the one I have used doesn't look particularly flattering.
From all accounts Adelaide - born Amalie Adelheid Louise Therese Karolina Wilhelmina - was a quite remarkable woman. At 25 she married her princely husband who was 32 years older than she and whom she had only known for a week. She also accepted and cared for his 10 illegitimate children whom he had by actress Dorothy Jordan. Adelaide had no surviving children of her own and her husband was succeeded in 1837 by his niece Victoria.
So, onto Adelaide the city - most of these shots were taken in the 1880s.
The Adelaide GPO - General Post Office - still stands today, but is now on a busy corner in the centre of Adelaide. Where the photographer was standing is Victoria Square - still there, but having undergone nearly as many renovations as we have had a City Council to make those changes.
South Australia was the only Australian colony settled by free men - no convict labour - and as such was a fairly prosperous city judging by its buildings.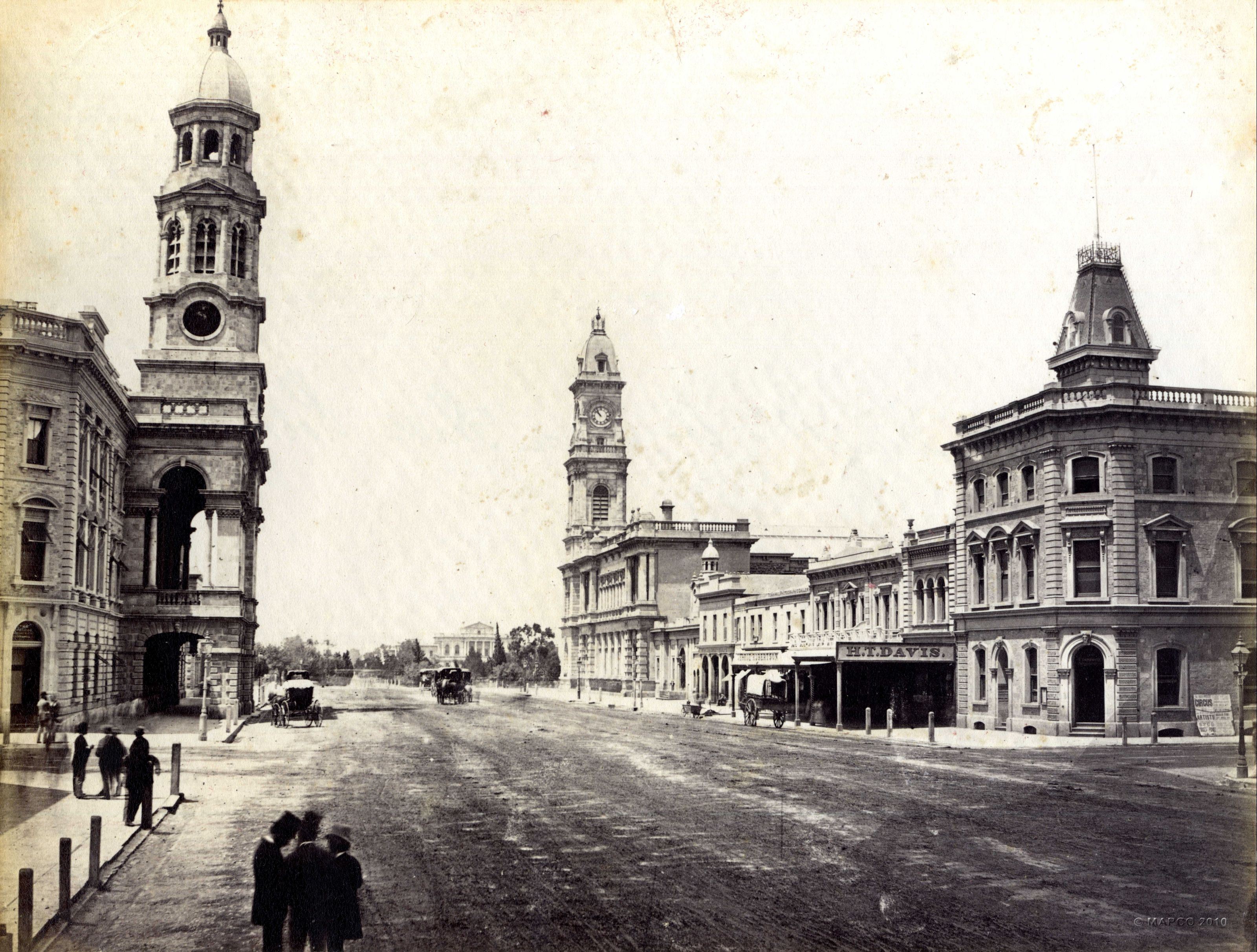 This shot of King William Street shows the GPO clock tower on the right and the Town Hall clock tower on the left. It always amesed me as a child that the two were never quite synchronised. The GPO was the official South Australian time. Actually when this photo was taken, the Town Hall clock was yet to be installed.
The
Jubilee Exhibition Building
was completed in 1887 to commemorate Queen Victoria's Golden Jubilee and also Spouth Australlia's Jubilee the year before This wonderful building is no longer there, having been demolished in the 1970s when our governmeny had a rush of blood to the head and pulled down many beautiful old Adelaide landmarks.
To build this, they constructed a railway line -
The Jubilee Exhibition Railway
- from the Adelaide Railway Station - about half a mile away - up North Terrace to transport building materials. The train used an old underground tunnel to go under King William Street. There are no existing remnants of the railway line, though when they were building the Festival Theatre, part of the old tunnel was opened up. There was talk of excavating the tunnel and using it as a historical landmark, but the plan was shelved because of the cost involved.
I remember this building well from the 1950s when it became the Art School and I spent many Saturday mornings there going to Art School as a teenager. Later I attended Art Balls put on by the Art students at Uni. Many of our classes were in the "catacombs' under the building.
Fortunately this building has survived. Originally the Art Gallery, it is now the Museum with a new Art Gallery built next door in 1900.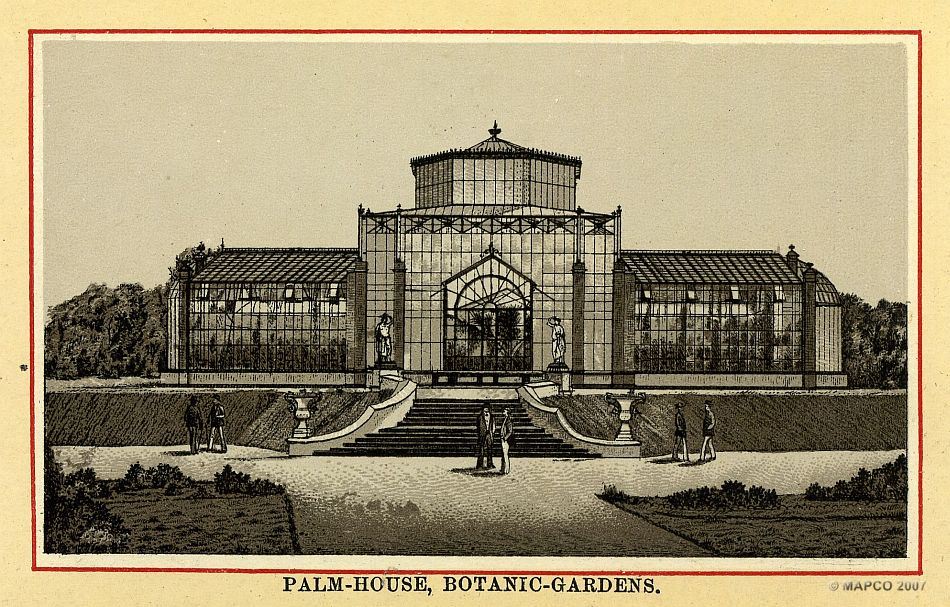 Fortunately this majestic glass building still exists in the Botanic Gardens and has recently been
renovated.
I'll try not to bore you with too many pictures of my favourite city, but this one has a personal connection. This is Rundle Street - the main shopping street in Adelaide. The large building on the right is the "Adelaide Arcade". As you can see trams used to run down the centre. The traffic congestion eventually got too horrendous and so Rundle Street became
Rundle Mall
in 1976.
My great grandfather - Ernst Bernhard (E.B.)Heyne was a botanist and head plantsman for the Melbourne Botanical gardens. He moved to Adelaide in 1868 and established a plant nursery in Norwood and started the first shop in South Australia for seeds and plants at 168 Rundle Street.
Hope you enjoyed my walk through Adelaide.
Liz Needle - linking with
"Sepia Saturday"